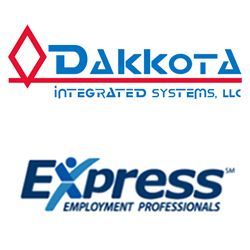 Warehouse / Forklift Operator
Louisville, KY
Express Employment Professionals has partnered with Dakkota Integrated Systems, LLC., and is now hiring Warehouse / Forklift Operators / Assembly Positions.

ALL SHIFTS AVAILABLE
$13.00/hr – Day Shift
$13.40/hr – Night Shift
$13.75/hr – Weekend Shift

ADDITIONAL BENEFITS:
• 4 Day Work Week
• Excellent working conditions
• Pay increases
• Tons of advancement opportunities

We are looking for hard-working associates that have an excellent work history and are looking for a career opportunity.

When applying in person, you MUST bring:
• 2 forms of ID
• Face Mask
• Must be able to work in a fast-paced environment.
• Must be able to stand throughout the entire shift.
• ALL SHIFTS AVAILABLE

Don't wait, these opportunities won't last!

Please complete the "Apply Now" box at the top of the page to be contacted by a recruiter. If you prefer to complete an application in person Monday - Friday 8:30 am - 3:30 pm complete "Apply Now" and you will be provided the address accepting applications.

We are an Equal Opportunity Employer.
18573